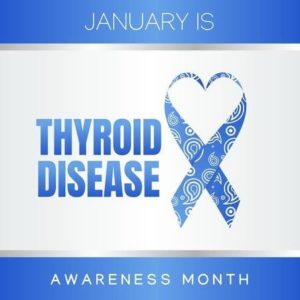 Can you believe that we're already more than halfway through the first month of 2022? January is a special month because it is a reminder of a fresh start. Did you know that January is also Thyroid Awareness Month? Dr. Brett Stark of Auburn Foot Care Center works with patients who have been impacted when this small gland isn't performing as it should. One of the common complications is hypothyroidism.
Let's talk about hypothyroidism and the importance of the thyroid.
If you're wondering if you may have hypothyroidism, consider these questions:
Have you had to recently shop for a larger size?

During your

daily foot inspection

, have you seen swelling?

Are cold feet a new thing for you — or fatigue?
We always recommend that you speak with a medical professional who can make the proper diagnosis and create a treatment plan.
Think more about your thyroid
Many metabolic changes can be tied to your thyroid. If you have noticed changes in your body, talk to your doctor. The thyroid may be a small gland, but it produces a hormone that controls your metabolism. Our metabolism affects our energy rate and heart rate. Whether you have too much of the hormone (hyperthyroidism) or too little (hypothyroidism), you will want to seek balance.
Remember your risk
Did you know that women are at higher risk of developing thyroid disease? Here is another concerning statistic: As many as 60% percent of people in the United States have an undiagnosed thyroid disorder. The statistic shows that many people may be walking around while not feeling their best. Scheduling a doctor's appointment is the best first step.
Focus on your feet
We may often think about our feet as the last part to be impacted by a disorder or disease. The thyroid is a powerful gland. The hormone it produces can impact the body from head to toe. Keep in mind that our feet are one of the best places to signal signs of another problem within our body. Stay on top of your podiatry visits and stay connected with us.
At Auburn Foot Care Center, Dr. Brett Stark, our board-certified podiatrist, treats a variety of conditions such as diabetic foot care, sports injuries, bunions, ingrown toenails, arthritis, and pediatric foot care. We provide quality service and advanced technology care for patients in Lee County. Contact our office at 334-466-1401. We are in Auburn, Alabama. Our address is 1559 Professional Parkway. We also offer telemedicine appointments.