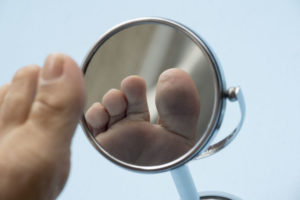 Have you wondered why it is so important to manage your foot care while having diabetes? Dr. Brett Stark of Auburn Foot Care Center encourages daily foot checks regardless of your condition, but diabetic patients are at risk of dangerous complications without regular care. For this reason, podiatrists are among the specialists who make up the care team.
November is American Diabetes Month, and we're here to support our patients who manage this disease. Whether you received a diagnosis years ago — or a few months ago — it's not too late to focus on your foot care. Here are three myths about diabetes and your feet. 
Myth #1: It's OK to miss podiatry appointments.
Diabetes is a condition that can affect patients from head to toe. With this knowledge, podiatrists are often among the specialists called to treat conditions like diabetic foot ulcers and diabetic peripheral neuropathy. High blood sugar can lead to many complications, which may decrease circulation, damage nerves, and change other parts of your body. Time is a critical part of detecting problems early and creating a treatment plan. Do your part by keeping up with regularly scheduled appointments.
Myth #2: It's OK to handle foot problems on your own.
From performing bathroom surgery to fix an ingrown toenail to managing calluses alone, patients with diabetes need an expert on their side. With one cut to the skin, a patient increases their risk of infection. A cracked heel can turn into bleeding skin. A callus may later develop into an ulcer. Contact a foot and ankle specialist to have guidance when dealing with common complications.
Myth #3: A podiatrist isn't helpful.
Unfortunately, a patient may see the effects of this condition on their feet and ankles. If this happens, we recommend you go to a doctor who specializes in treating these parts of the body. Who are those experts? Podiatrists. We can help with the nerve damage in your feet, the persistent ingrown toenail, the painful diabetic ulcer, and more. 
This month, we're here to remind you of our role as a community resource. We're here to help you understand how to manage your condition while taking advantage of prevention tips.
At Auburn Foot Care Center, Dr. Brett Stark, our board-certified podiatrist, treats a variety of conditions such as diabetic foot care, sports injuries, bunions, ingrown toenails, arthritis, and pediatric foot care. We provide quality service and advanced technology care for patients in Lee County. Contact our office at 334-466-1401. We are in Auburn, Alabama. Our address is 1559 Professional Parkway. We also offer telemedicine appointments.