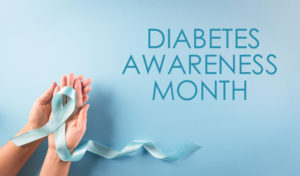 Diabetes is a condition that impacts Americans each day. According to the American Diabetes Association, 1.5 million people will have received a diagnosis by the end of this year. November is American Diabetes Month, so it's time to check in about your health. Learn how to recognize your risk and detect symptoms early. Complications from this condition often impact feet. Dr. Brett Stark of Auburn Foot Care joins other health care professionals to raise awareness and take action.
What are the different forms?
Your body needs insulin to help regulate blood sugar levels. The most common form of diabetes is Type 2, in which the body doesn't use insulin properly. With Type 1, the body doesn't produce insulin. Gestational diabetes is another form. Some women receive this diagnosis during pregnancy. However, it doesn't mean that they will continue to have this condition after pregnancy.
What are the symptoms?
Always speak with your doctor about changes to your body. Pay attention to the following:
Frequent urination
Increasing thirst
Feeling hungry (even if you're eating)
Extreme fatigue
Blurred vision
Slow-healing wounds
Tingling pain or numbness in hands or feet
What is the impact on feet?
Below are common complications; talk to your podiatrist about changes.
Skin changes
Poor circulation
How can I reduce my risk of complications?
Smoking is one of the biggest threats to your feet. Stop smoking today. This habit negatively impacts your small blood vessels, decreasing blood flow to your feet, and increasing your risk for slow-healing wounds. These wounds can be dangerous for your health and even lead to infection. Many people who need amputations are also smokers.
We're in this together. Schedule an appointment with Dr. Brett Stark,  our board-certified podiatrist, and allow us to support you as part of your care team. You don't have to tackle your diabetes diagnosis alone. Call us at 334-466-1401. We are in Auburn, Alabama. Our address is 890 N. Dean Road, Ste. 400.