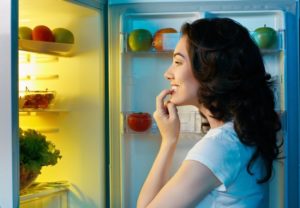 How has your March been going? We can't close out this month without sharing our appreciation for National Nutrition Month. Dr. Brett Stark of Auburn Foot Care Center enjoys talking with patients about how eating healthy and moving more can have positive benefits from head to toe. He's here to help with one common feature that you will see on the side of your favorite boxes or bags of food: the Nutrition Facts Label.
What do you know about this label, and how do certain words impact your feet? Let's start with common categories that you can see on the Nutrition Facts Label:
Serving information
Calories
Nutrients
Now, more details are found within these categories.
Within the nutrients section, look for information about total fat, cholesterol, sodium, total carbohydrates, and protein. You will also find information on things like vitamin D or calcium.
While planning your plate, consider fruits, grains, vegetables, protein, and dairy.
Words matter. When looking at labels, look for choices with lower amounts of saturated fat, sodium, and added sugars. Look for options with more dietary fiber, vitamin D, iron, and more.
Here are common ways poor food choices could impact your feet:
Diabetic foot complications
Poor diet and exercise habits can lead to a diabetes diagnosis. Common complications with this condition include neuropathy or nerve damage, frequent ingrown toenails, diabetic foot ulcers or nonhealing wounds, and even limb amputation.
Joint pain and swelling
Maintaining a healthy weight has tremendous benefits, especially for your joints. If your body is struggling to carry additional weight, you will begin to feel it in your joints and muscles. You may also experience swelling in your ankles and feet.
Weak bones
When we talk about vitamin D, we're talking about a vitamin that has a big impact on your bone health. Healthy bones are at a lower risk of injury. If you aren't getting enough vitamin D in your diet, you are at risk of osteoporosis, which could make injuries more common.
As we wind down during National Nutrition Month, we hope you'll think twice about what you put on your plate. Diabetic foot complications, joint pain and swelling, and weak bones are just a few ways poor choices affect your foot health. We're here to help you avoid these problems.