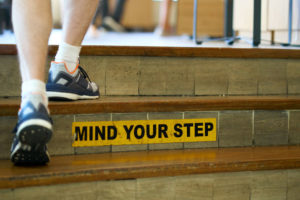 Do you know the dangers that come along with a fall? September is Falls Prevention Month, and Dr. Brett Stark of Auburn Foot Care Center is raising awareness about how to reduce the risk of a fall. Among patients who are older than 65, 25% of them will fall each year. From fractures and bruises to lowered self-esteem, the effects can be serious. This month is a great time to focus on prevention. We're here to help.
Here are three steps you can take now to avoid a fall:
Schedule a check-up
Stay on schedule with your medical visits. If you have questions or concerns, don't hesitate to connect with a doctor. If you have fallen before, there is an increased sense of urgency to book your next appointment.
Poor vision can impact your ability to see what's ahead or nearby.
Foot pain or weakened ankles can increase your risk of an accident.
Clear the way
Is it time for a cleaning day? Extra clutter around the house can become a tripping hazard. Here are a few ways to fall-proof your home.
Clear the walkways throughout your home. When thinking of the location, consider areas like hallways and the kitchen.
Brighten the path for housemates and guests by improving the lighting. Poorly lit areas can become dangerous for your housemates and guests.
Stretch and build
Did you know there are ways to improve your balance right now? From balancing exercises to diet updates, we encourage patients to find ways to strengthen their bones and muscles.
To strengthen bones, keep calcium-rich foods on your plate.
Improve balance with easy-to-do exercises. Be sure to stretch before and after each session.
At Auburn Foot Care Center, Dr. Brett Stark, our board-certified podiatrist, treats a variety of conditions such as diabetic foot care, sports injuries, bunions, ingrown toenails, arthritis, and pediatric foot care. We provide quality service and advanced technology care for patients in Lee County. Contact our office at 334-466-1401. We are in Auburn, Alabama. Our address is 1559 Professional Parkway. We also offer telemedicine appointments.