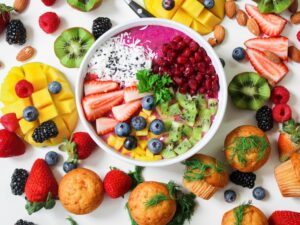 A healthy, balanced and nutritious diet affects all parts of the body, including the feet. A good diet helps achieve many health objectives, including keeping your weight under control, reducing stress on the feet, managing diabetes and encouraging the development of strong bones and tissues.
Almost all packaged foods in supermarket stores have labels that have dietary stats mentioned on them. It's crucial to develop your ability to understand all the various percentages and figures. Knowing what to check can help you avoid different problems that may arise as a result of consuming too much or too little of the required nutrients.
Portion/serving size
You can find both the amount of food, which is the quantity that individuals generally eat in one sitting and the package's serving count on the product labels.
Comparing your actual intake to the portion sizes indicated on the panel can help you determine your portion size. If the portion size is one and you consume two, you will take twice as many calories, fat, and other nutrients as what is indicated on the label. This is because the Nutritional Info applies to the portion sizes. The recommended daily calorie intake for adults is 2,000, although your specific requirements may be more or less based on other aspects.
Check for sodium, sugar, and saturated fat.
Consuming fewer calories from saturated fat, added sugars, and salt may lower your chance of developing chronic diseases.
A higher risk of cardiovascular disease has been connected to trans-fat and saturated fat.
It is challenging to consume enough added sugars to fulfill your calorie demands while still getting all the nutrients you need.
Excessive sodium levels can cause elevated blood pressure.
Remember to consume less portion of items with a large quantity of the aforementioned things.
Consume lean meat, chicken, salmon, eggs, low-fat milk, yogurt, and cheese in moderation, along with beans, peas, nuts, seeds, and soy products.
Sugars, starches, and fiber are the three different forms of carbs. Consume fruits, vegetables, whole-grain bread, cereals, rice, and pasta.
Dietary fiber, vitamins, and minerals
Increase your intake of foods high in dietary fiber, potassium, vitamin D, calcium, iron, and other nutrients to help you stay healthy and lower your chance of developing conditions like anemia, osteoporosis, and high blood pressure.
Contact a podiatrist if you would like further information on good nourishment for your feet and ankles or if you need assistance with any foot problems you may be experiencing.
At Auburn Foot Care Center, Dr. Brett Stark, our board-certified podiatrist, treats a variety of conditions such as diabetic foot care, sports injuries, bunions, ingrown toenails, arthritis, and pediatric foot care. We provide quality service and advanced technology care for patients in Lee County. Contact our office at 334-466-1401. We are in Auburn, Alabama. Our address is 1559 Professional Parkway. We also offer telemedicine appointments.