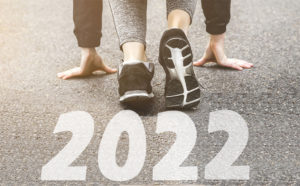 If you're planning your list of goals for 2022, we hope you'll consider ways to support your foot health, too. Are there some healthy habits that you'd like to bring into 2022? Dr. Brett Stark of Auburn Foot Care Center cheers on his patients and celebrates them as they overcome challenges, improve their foot hygiene, and walk without pain. He hopes to remind you of a few healthy habits that should come along for the ride in 2022.
It's note-taking time. Keep these healthy habits in mind when writing your goals before January 1, 2022.
Choosing support — and style
We hope this has been the year that you realize support is what matters most when shoe shopping. The great news is that you don't have to sacrifice style to get support. You can get both. Podiatrists just want you to recognize that support should be the foundation of your shoe hunt. Proper support helps to reduce your risk for common conditions like ankle sprains. Additional cushioning helps to reduce friction-related problems like corns and calluses.
Keeping feet clean — and protected
Fungal toenail infections are more common than you think. We hope you have learned this year about the value of checking feet daily and washing them, too. While outside, wearing socks and shoes also offers another layer of protection. Here's the other way to keep feet clean: don't share shoes, socks, or other hygiene tools like clippers or nail files.
Sticking to a schedule
We're sure you already have your next dentist appointment scheduled. What about your podiatrist appointment? With each blog post, we hope you understand the importance of prioritizing your foot health. Next year, keep up with podiatry appointments. Ask your podiatrist which schedule works best. If you have diabetes, a podiatrist will want to check your feet more often. Understand the state of your feet and ankles and listen to the recommendations of your podiatrist. 
Setting new goals can be overwhelming. We hope to encourage you to keep up the great work and bring along the healthy rhythms that you're doing right now. We're wishing you a joyous holiday season and a happy new year!
At Auburn Foot Care Center, Dr. Brett Stark, our board-certified podiatrist, treats a variety of conditions such as diabetic foot care, sports injuries, bunions, ingrown toenails, arthritis, and pediatric foot care. We provide quality service and advanced technology care for patients in Lee County. Contact our office at 334-466-1401. We are in Auburn, Alabama. Our address is 1559 Professional Parkway. We also offer telemedicine appointments.