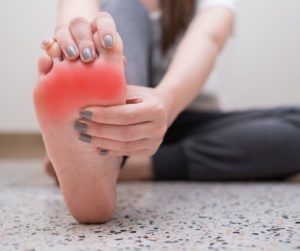 Here is a myth: Foot health doesn't matter. Ask Dr. Brett Stark of Auburn Foot Care Center, and he can share the many ways that poor foot health impacts overall health. He can also share how daily foot inspections helped patients spot problems early and find solutions quickly. There are many myths about foot health or foot care. The most dangerous lie is that we need to pay little attention.
Here is a fact: Poor foot health impacts how you walk and live. Everything is connected, and that is why we want you to switch gears and take your foot health seriously. We will share three myths and give you the facts instead.
Foot pain is normal.
No, it is not. Would you walk around with an upset stomach all day? Would you keep delaying a dentist appointment while dealing with a terrible toothache? We know the answer is "no." Pain is a signal that something is wrong. If it is happening in your feet, you need to pay attention.
Pain will eventually go away.
Could you experience temporary relief? Sure. Is it a reason to put the memory of pain to the side? No. Sometimes pain fades or comes and goes. Regardless of the frequency or intensity, do not fall for the myth that pain will fix itself. Contact us, and we will help you figure out the cause.
Podiatrists only help people with injuries.
No. We want to help you prevent injuries, too! Podiatrists are here for both prevention and treatment. We treat everyone from children to seniors. If you have foot and ankle pain, we recommend visiting a specialist who spent years of schooling to make a proper diagnosis.
During National Foot Health Awareness Month, we hope to tell more people about the importance of foot health. We also want to let them know that our specialty exists to address those common conditions. Do not fall for lies like foot pain is normal, the pain will eventually go away, or a podiatrist can only help with an injury.
We will give you the facts and help you get back on track with your foot health.
At Auburn Foot Care Center, Dr. Brett Stark, our board-certified podiatrist, treats a variety of conditions such as diabetic foot care, sports injuries, bunions, ingrown toenails, arthritis, and pediatric foot care. We provide quality service and advanced technology care for patients in Lee County. Contact our office at 334-466-1401. We are in Auburn, Alabama. Our address is 1559 Professional Parkway. We also offer telemedicine appointments.