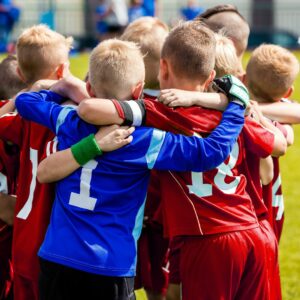 Fall is almost here, and if you're a young athlete excited to participate in fall sports, it's important to take steps now for a healthy and smooth start to the season. In this blog, we'll talk about four popular fall sports, the possible foot and ankle injuries that can come with them, as well as providing tips on how to avoid them.
Soccer
Due to quick movements, soccer players often experience ankle sprains, fractures, Achilles tendonitis, and turf toe. To avoid getting hurt, players should warm up properly, wear cleats that fit well and provide ankle support, and do strength and conditioning exercises to improve stability.
Volleyball
Volleyball players may experience ankle sprains, stress fractures, and inflammation of the patellar tendon because of the sport's jumping and side-to-side movements. Athletes should prioritize learning the correct jumping and landing technique, wear proper court shoes with plenty of cushioning, and do exercises that strengthen the lower body muscles.
Tennis
Quick side-to-side movements and repetitive footwork in tennis can lead to common injuries like plantar fasciitis, ankle sprains, and stress fractures among players. To prevent injury, it is important to wear tennis shoes that provide side support, maintain correct foot mechanics, and do exercises that strengthen the feet.
Hiking
Hikers can suffer from blisters, ankle sprains, and stress fractures. To prevent injuries, it is best to gradually increase the duration and difficulty of hikes, use trekking poles, and do stretching exercises. Wearing appropriate shoes and strengthening exercises can also help protect your feet and ankles.
If you're dealing with constant pain or discomfort, seeing a foot doctor can give you valuable information and guarantee that you're headed toward a safe and enjoyable time participating in sports.
At Auburn Foot Care Center, Dr. Brett Stark, our board-certified podiatrist, treats a variety of conditions such as diabetic foot care, sports injuries, bunions, ingrown toenails, arthritis, and pediatric foot care. We provide quality service and advanced technology care for patients in Lee County. Contact our office at 334-466-1401. We are in Auburn, Alabama. Our address is 1559 Professional Parkway. We also offer telemedicine appointments.