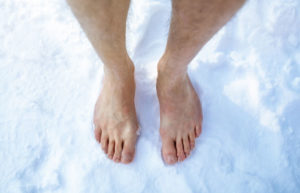 Maurice Raynaud was a French physician, and he was the first person to recognize what we now call Raynaud's. October is Raynaud's Awareness Month, and Dr. Brett Stark of Auburn Foot Care Center is helping his patients learn more about this condition. Raynaud's may sound rare, but it impacts 5-10 percent of Americans. As we help more patients detect the symptoms, we hope this allows for an earlier diagnosis.
Learn the signs
Raynaud's is a condition that disrupts blood flow to various parts of the body, including our toes. During an attack, patients may see their toes, for example, turn white, then blue, and then bright red. The experience can be painful. A person may also experience tingling and numbness. The attacks can last for minutes or hours, according to the Raynaud's Association.
Learn the risks
While anyone can receive a diagnosis, there are certain groups of people who are at a higher risk. People who live in colder climates are at an increased risk. Women are also more likely to be diagnosed during childbearing age.
Limit the stress
The cold is a trigger for an attack. Stress is, too. Limit your stress to reduce the frequency of these attacks. We also recommend protecting your skin from the cold. Choose to wear an extra layer of clothes or use insulated cups for beverages. To warm up quickly, place your hands under warm running water.
How do you respond to the cold or stressful situations? If you have experienced these symptoms, it's worth your time to schedule an appointment. Many people are misdiagnosed or delay receiving a diagnosis because they dismiss their symptoms. We're here to listen.
At Auburn Foot Care Center, Dr. Brett Stark, our board-certified podiatrist, treats a variety of conditions such as diabetic foot care, sports injuries, bunions, ingrown toenails, arthritis, and pediatric foot care. We provide quality service and advanced technology care for patients in Lee County. Contact our office at 334-466-1401. We are in Auburn, Alabama. Our address is 1559 Professional Parkway. We also offer telemedicine appointments.