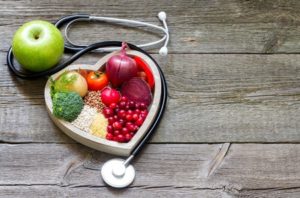 Are you purposeful about your plate? February is American Heart Month, and Dr. Brett Stark of Auburn Foot Care Center is sharing the value of choosing our meals wisely while balancing them with a healthy, active lifestyle. What we eat affects our feet, which ultimately affects our overall heart health. Unfortunately, poor food and lifestyle decisions can lead to conditions like diabetes and heart disease. These conditions often show early signs in our feet and ankles.
This American Heart Month, will you allow us to share a few heart-healthy tips? Making a change today may start in your head, but it can have a tremendous impact on your heart.
Search for heart-healthy signs
When was the last time you took a close look at the labels of your favorite food? I think we will all be a bit surprised at how much cholesterol makes the cut. Choose low-cholesterol options instead. Many foods are heart-healthy with a delicious taste.
Stand up for a walk 
Are you sitting too much? You might be sitting more than you think. As more people worked from home, they may have also cut back on how much they moved. Stand up and take a break. Walk around your home. Take the stairs in your building. Take a jog around your neighborhood. You can choose how to move. We just want you to move even more.
Stop smoking cigarettes
We're back again with our encouragement to put down the cigarettes. Smoking is harmful to your overall health. People who smoke are at a higher risk of developing a variety of diseases, including heart disease and diabetes. If you need help quitting, we're happy to connect you with support. We know that smoking is a challenging habit that requires a village of encouragement. You are not alone.
Here are a few facts about heart disease in the United States:
At Auburn Foot Care Center, Dr. Brett Stark, our board-certified podiatrist, treats a variety of conditions such as diabetic foot care, sports injuries, bunions, ingrown toenails, arthritis, and pediatric foot care. We provide quality service and advanced technology care for patients in Lee County. Contact our office at 334-466-1401. We are in Auburn, Alabama. Our address is 1559 Professional Parkway. We also offer telemedicine appointments.