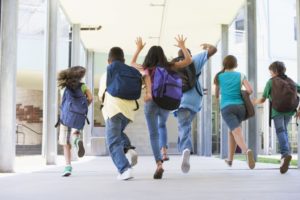 The school year is here! Now is the time to plan and make your back-to-school check-up with our office. Each year, Dr. Brett Stark of Auburn Foot Care Center works with parents to help their children start and finish the year on the right foot — and in the right shoes. Partnering together, we can catch foot problems early and tighten up the healthy foot care routine for prevention. Are you ready to take notes for pediatric foot care 101?
New shoes
Your child's feet are growing, so don't take the chances of returning to school with last year's shoes. We know that shoes are another cost for the back-to-school season, but they're worth it. Start the school year in style and comfort with the right size for your child's feet. Contact us if custom orthotics are the right fit for your needs. For sports, make sure the shoe style matches the sport. We're here to answer your questions.
Same rules
Our healthy hygiene rules haven't changed.
Wash and dry your child's feet regularly. If they're old enough to take on this task alone, be sure to check in regularly.
Don't share socks, shoes, or foot care hygiene items. Prevent contagious fungal infections.
Pain is a sign for concern. Contact the podiatrist for a proper diagnosis.
Same support
We're here for your family. Injuries and accidents happen, corns and calluses can cause pain, and bunions can bring on discomfort. If you have any questions or concerns throughout the school year, don't hesitate to give us a call. We're on your team, and we look forward to supporting your family during the upcoming school year. Stay safe!
At Auburn Foot Care Center, Dr. Brett Stark, our board-certified podiatrist, treats a variety of conditions such as diabetic foot care, sports injuries, bunions, ingrown toenails, arthritis, and pediatric foot care. We provide quality service and advanced technology care for patients in Lee County. Contact our office at 334-466-1401. We are in Auburn, Alabama. Our address is 1559 Professional Parkway. We also offer telemedicine appointments.