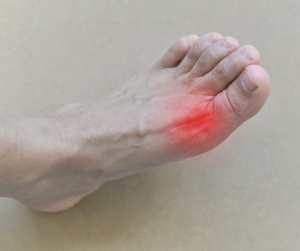 The best time of the year has arrived, enjoyment with family, friends and food. While it can be tempting to overindulge during the holidays, doing so could trigger an attack of gout.
Gout is a typical and excruciating type of inflammatory arthritis. One joint is typically affected at a time, commonly beginning with the big toe. There are periods when symptoms worsen (referred to as flares) and periods when there are no symptoms (referred to as remissions).
Below are recommendations from our podiatrist, Dr. Brett Stark to help you prevent a gout flare up during the holiday season.
Avoid stressing yourself.
Although it is the festive season, for some people it is often associated with more stress. You could feel more stressed due to unwanted visitations, meeting people after a long time, managing expenditures with financial constraints and more. Your body's uric acid levels may increase as a result of stress.
Finding techniques to manage your stress will help control your uric acid, which can help you manage your gout. Self-care routines like meditation, yoga or just taking a break, might help you feel more at ease during this holiday season.
Limit consumption of alcohol.
Holiday gatherings frequently feature alcoholic beverages. However, drinking alcohol can raise your risk of having a flare-up if you have gout. The process through which your body gets rid of extra uric acid is hampered by alcohol. This may result in an increase in gout attacks during the holiday season.
Limit sugar intake.
During the holidays, sweets are everywhere. Sugar content in foods can raise blood sugar levels. In people who are obese or overweight, elevated uric acid is associated with high blood sugar. Consequently, you are at a high risk of a gout attack if your sugar intake is not controlled.
Avoid consuming too many purine-rich meals.
All foods that include protein contain a chemical called purine, however certain foods contain higher levels of purine than others, like red meat, shellfish, rich sauces and dips etc. Eating foods high in purines might be problematic for gout patients because purine is connected to elevated uric acid levels.
Replace alcohol with water.
Make sure to drink plenty of water. Even when it gets cold outside, if you don't drink enough water, you can easily become dehydrated. Uric acid levels increase as a result of dehydration, making it more difficult for your kidneys to remove excess uric acid from your blood. If you're dehydrated, you are more prone to experience a gout attack.
Gout, if untreated, can erode a joint and even permanently damage it. Podiatrists can assist you whether you need immediate treatment or a better understanding of managing your gout over the long term.
At Auburn Foot Care Center, Dr. Brett Stark, our board-certified podiatrist, treats a variety of conditions such as diabetic foot care, sports injuries, bunions, ingrown toenails, arthritis, and pediatric foot care. We provide quality service and advanced technology care for patients in Lee County. Contact our office at 334-466-1401. We are in Auburn, Alabama. Our address is 1559 Professional Parkway. We also offer telemedicine appointments.