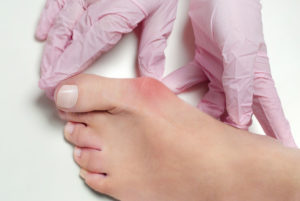 Surgery is one thing that most of us would like to avoid. Podiatrists feel the same. Before recommending surgery, a podiatrist will provide patients with more conservative treatment options. If the pain sticks around or worsens, then surgery may be more beneficial. With a progressive toe deformity like a bunion, the condition will continue to advance without intervention from a foot and ankle specialist. Until then, Dr. Brett Stark of Auburn Foot Care Center starts with three conservative tips.
Rest and relax
Could your pain be caused by extra time on your feet? From playing sports to a long day of work, ease the discomfort with rest and relaxation. Depending on the stage of your bunion, a few days of rest may help relieve the pain. Schedule an appointment to learn more about pain-reducing techniques.
Revisit your shoe size
Are you sure about your current shoe size? Improperly fitting shoes can aggravate your bunion. Visit your local shoe store and get a professional measurement. Take a closer look at your sock choices, too. More space inside your shoes allows your feet to move more freely. For the big toe especially, make sure you leave enough wiggle room.
Research custom orthotics 
A podiatrist will often prescribe custom orthotics as a solution to the pain. The treatment option can provide relief or slow down the progression of the toe deformity. How does it work? An orthotic can reduce the pressure on the painful area, which can help to lessen the discomfort while walking. To prescribe these helpful devices, a podiatrist takes detailed measurements of your feet and ankles, including the way you walk.
At Auburn Foot Care Center, Dr. Brett Stark, our board-certified podiatrist, treats a variety of conditions such as diabetic foot care, sports injuries, bunions, ingrown toenails, arthritis, and pediatric foot care. We provide quality service and advanced technology care for patients in Lee County. Contact our office at 334-466-1401. We are in Auburn, Alabama. Our address is 890 N. Dean Road, Ste. 400. We also offer telemedicine appointments.